Welcome to the Blessed Wiki!
The Blessed wiki is a free and collaborative project to help create a definitive encyclopedia for the possible spin-off of the hit-television show Charmed - Blessed. If you have not read the scripts be aware that this wiki contains a lot of spoilers! You've been warned!

We are currently editing 101 articles since the Summer of 2010.
Main Blessed Cast




Supporting Blessed Cast

Role Play Forum
Yes, you read it right! There is a place where you can role play in the Charmed/Blessed universe. The wiki section can be found under Role Play. You can also visit Blessed - A Future Charmed RPG for more info. You can be a witch, human, whitelighter, elder, dragon knight, dragon master, valkyrie... you name it, we have it!
Disclaimer

BLESSED is a concept that conceived by Rachel D. and belongs to her. It cannot be copied without her permission.


© Rachel D., 2006


I do not own anything Charmed related, which is owned by Constance M. Burge and Brad Kern. No infringement of any copyrights is intended.


Main page layout inspired by the Charmed Wiki.


All photographs belong to their rightful owners.


Blessed graphics were created by Rachel D. unless otherwise stated.


Models used for guest appearances like Dragon Knights, Dragon Masters, Shapeshifters, Warlocks and Darklighters are picked up from Image and Model Agency & Adam Models.
Our Networks





Upcoming Episode
01x04 The Woogy Is Back In The House
A new Warren Legacy starts now...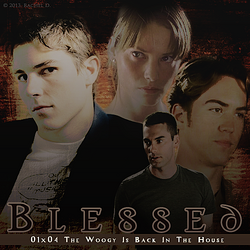 The Shadow Demon is back and has its eye on Prue. We are taken into the past where we see the younger versions of our beloved Wyatt, Chris and Prue and Piper Halliwell and Phoebe Halliwell have a guest appearance. Prue has a premonition about stabbing Matt in the Manor's kitchen. Will she be able to prevent her premonition from happening?
---
The Halliwell Chronicles
Ladybug
You were loved before you were born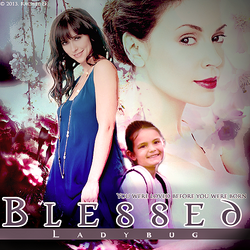 Ladybug is a THC one shot authored by Phoebe Halliwell in the Book of Shadows where she explains why she gave up the name Prudence to name her own daughter Patricia and foresees an important task for her daughter and two of her cousins: Prudence and Penelope.
Featured Quote
Recent Uploads
Community content is available under
CC-BY-SA
unless otherwise noted.